How can we help you?
We help small and medium-sized companies to achieve great success. We know that a clear visual identity is essential for any brand and that is why we create advertising material, which is based on our customer's visual strategy and vision.
We will talk, listen to you and advise you on the way your brand should look like.
We will design a logo and all the other elements of your visual identity. We will prepare advertising material and take care of the print. If you wish, we can also create a website for you. Together we will decide on the best way to promote your business so that it attracts customers.
You choose which part of your project we should deal with. We are experts who are not afraid to work with others. If you come up with an idea that goes beyond our abilities, we will turn to a verified specialist.
What will you get by cooperating with us?
We offer you partner-like cooperation and solutions that bring specific benefits. We will support you at every stage of running your company so that you don't have to worry about the advertising issues of your business.
What services can you make use of?
We provide complete solutions and our actions depend on the specific case. We offer graphic design, which is the basis for creating a promotional strategy. We will build full visual identity of your company, including a logo project. We will manage your project from scratch, but also take care of the print of the graphic material.
If you wish, we can develop your activity on the Internet. We will create a website or design your online shop, which for sure will affect your sales positively. Moreover, you can also count on us when it comes to running your social media.
Hereda.Studio – get to know us
We are happy that you're reading the part ABOUT US and you want to find out who is behind all the work. Hereda.Studio is run by a really good team – Kate and Peter Hereda. Together we have been carrying out small and big projects since 2015.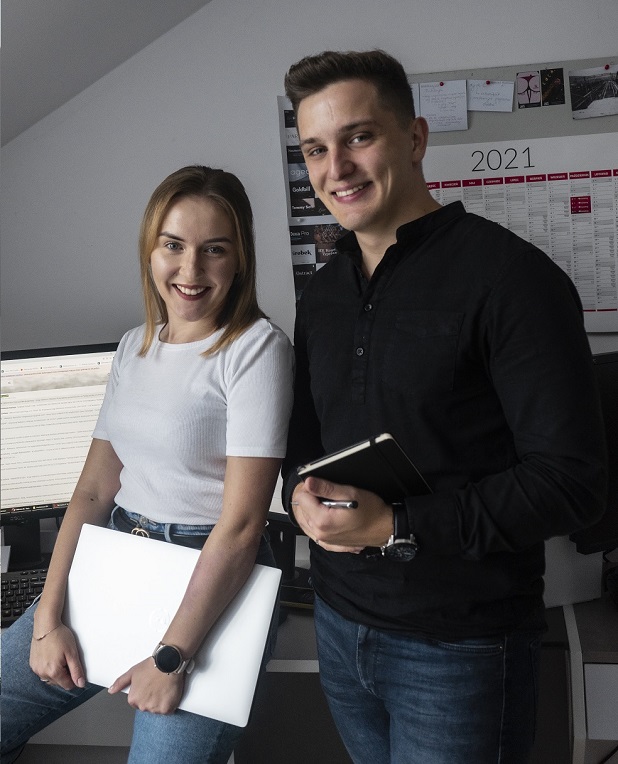 Kate Hereda
I deal with all the project issues connected with visual identity, typesetting, and designing DTP material – which is to be printed. I pay attention to every detail of the project that we are currently working on. I have developed my skills at Tischner European University, where I studied graphic design and multimedia.
Peter Hereda
At Hereda.Studio I am in charge of creating websites and online shops. It has been eight years since I created my first websites. Internet marketing has become my passion so I decided to make it my life's work. Therefore, I am an IT specialist by trade, but with passion for designing.
Do you want to know what our customers say about us?